How to Install Windows Terminal
Windows Terminal is a new terminal emulator developed by Microsoft for Windows 10. The current release is still in Preview but is quite stable. Let's quickly run through how to get it setup and configured. Note: you will need to be running Windows 10 version 18362.0 (1903) or higher to install this.
First, open the Microsoft Store app and search for terminal. You should find the Windows Terminal (Preview) app at the top of the results; click on it to be taken to the appropriate store page.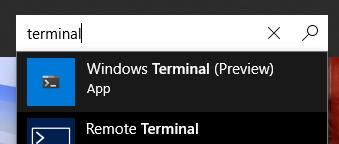 Click the blue Get button followed by the Install button. You should now be able to click the Launch button to take Windows Terminal for its first test run. By default, Windows Terminal currently has built in support for Windows PowerShell, cmd, and Azure CloudShell. If you have also setup Windows Subsystem for Linux (see this post to learn how), then there will be an option in the drop down menu to launch a shell into your chosen Linux distro.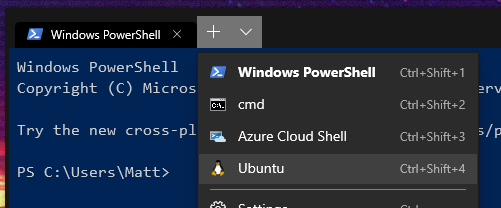 You can also learn how to add custom SSH session options to the drop-down menu by following the instructions in this post.